Disinfecting Services
Proudly serving Houston and all surrounding counties!
Hilsher Group LLC is proud to offer disinfecting services. Our technician will apply an application of Vital Oxide (EPA APPROVED) to disinfect 99.999% of germs and viruses (including COVID19) to all surfaces using an electrostatic sprayer.

Vital Oxide Disinfecting Service
VITAL OXIDE is an EPA-registered hospital disinfectant cleaner, mold and mildew killer, and odor eliminator. Vital Oxide is non-irritating to skin, non-corrosive to most treated articles, no-rinse required for food-contact surfaces, and listed as a category IV (lowest approved category) pesticide with the EPA. Vital Oxide is sprayed on all surfaces using a handheld electrostatic sprayer.
EPA Registered for Use Against COVID19
EPA-registered hospital disinfectant with lowest toxicity category—gentle enough for daily disinfecting and sanitizing
NSF-registered "no rinse on food-contact surfaces" sanitizer, sanitizes 99.999% of food contact surfaces with no rinse required
Carpet and rug sanitizer-Certified by the Carpet & Rug Institute for pet stains and odor
Effective disinfectant that kills 99.999% of bacteria and viruses, including COVID19, H1N1; MRSA; Norovirus; HIV; Legionella; Pseudomonas aeruginosa; Hepatitis A, B, and C; Ebola virus; and others
Effective fungicide
Effective mildew and mold remover—kills mold spores and prevents mold regrowth on tile, HVAC systems, air ducts and other surfaces up to seven months
Excellent for water damage and mold removal services
Heavy duty odor eliminator—gets rid of bad odors by attacking the source of the problem, not by masking
Eliminates allergens in homes and other environments
Soft-surface sanitizer (couches, rugs, window treatments)
Hypo-allergenic
No harsh chemicals, non-irritating to skin, no nauseous fumes
Vital Oxide is proven to work on all surfaces!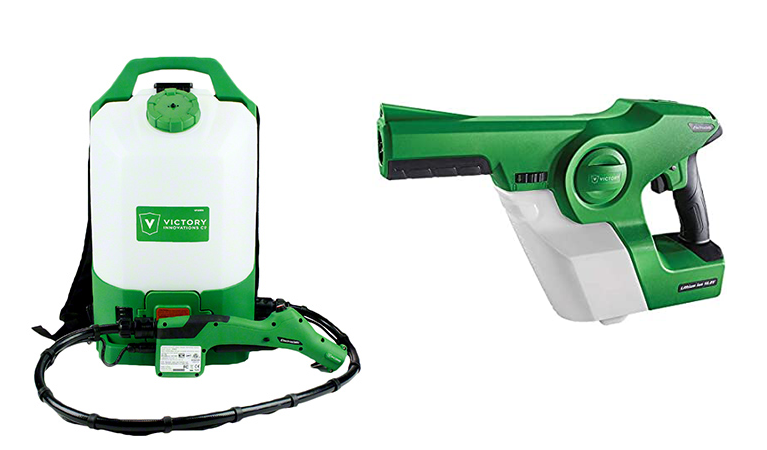 Benefits of using an electrostatic sprayer for disinfection
Electrostatic spray surface cleaning is the process of spraying an electrostatically charged mist onto surfaces and objects. Electrostatic spray uses a specialized solution that is combined with air and atomized by an electrode inside the sprayer.
Subsequently, the spray contains positively charged particles that can aggressively adhere to surfaces and objects. Because the particles in the spray are positively charged, they cling to and coat any surface they are aimed at.
For awkwardly shaped objects or hard to reach places, it is only necessary to point and spray; the nature of the mist allows it to coat surfaces evenly, and envelope objects—even if the mist is only sprayed from one side. After the spray is applied, the sanitizing agent works to disinfect the covered surfaces. For this reason, electrostatic spray is an excellent solution for germ and contaminant ridden areas.
Reduces the time it takes to cover and disinfect all surfaces and hard-to-reach places by 50% compared to conventional methods.
Improves infection control and the spread of viruses such as COVID19, influenza, MRSA, HIV and many others.
Applies chemicals in a more efficient, controlled manner, eliminating the dangers of overuse.
Home inspection fees start at just $325.
Appointments can be made Monday through Saturday. Online payments are accepted.
Serving Houston and surrounding Areas
We're proud to offer a variety of investigative home inspections to meet your specific needs, serving Houston and all surrounding counties.
At HG Home Inspection, we've managed to put together a home inspection experience that's unique in many ways, offering unparalleled scheduling convenience, onsite reporting, and most importantly—the best inspection service a homebuyer could ask for. Contact us today to request an inspection.


Inspectors
TJ Hilsher #20768
Steve Bradfute  #21353
Ryan Vance #21238
Byron Lee #23870 (se habla español)
James Horres #23903
Matt Smith #23130
Matthew Medearis #24465
Timothy Burke #24559
Jay Brunson #23920
Kenneth Linnett #24030
Gonzalo Allende #22481 (se habla español)
Daniel Lucena (se habla español) #25167
Fred Broussard #21859